Free CV Example and Free Resume Example by Bradley CVs
The free CV example / resume example on this page illustrates how you can quickly turn an ineffective original CV into a great new CV (see below), plus there's advice on how to swiftly create your own interview-getting CV.
After you've viewed the before and after CVs below, please see our Example CV or for recent graduates or students please take a look at our Graduate CV Example, both show you how to produce effective CVs that get job interviews.
Do you need to improve your CV? Professional CV writers can swiftly transform your CV, ensuring it grabs the attention of employers, leading to those vital interview invitations.
The Original CV
This ineffective original CV was transformed into a great new CV (see below the original CV) by our CV writing service.
Personal details on the CV examples have been altered to preserve the privacy of our clients who agreed to us sharing their CVs with you.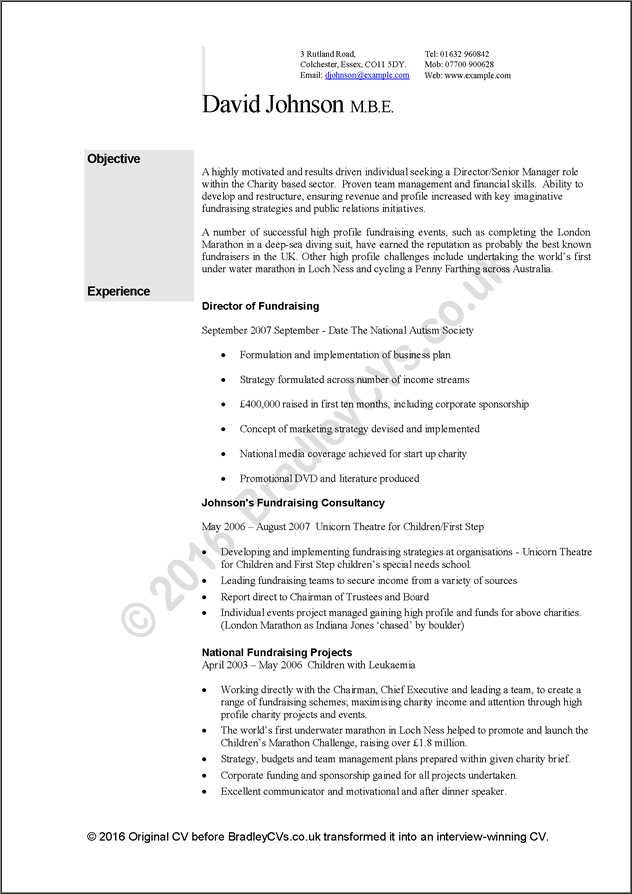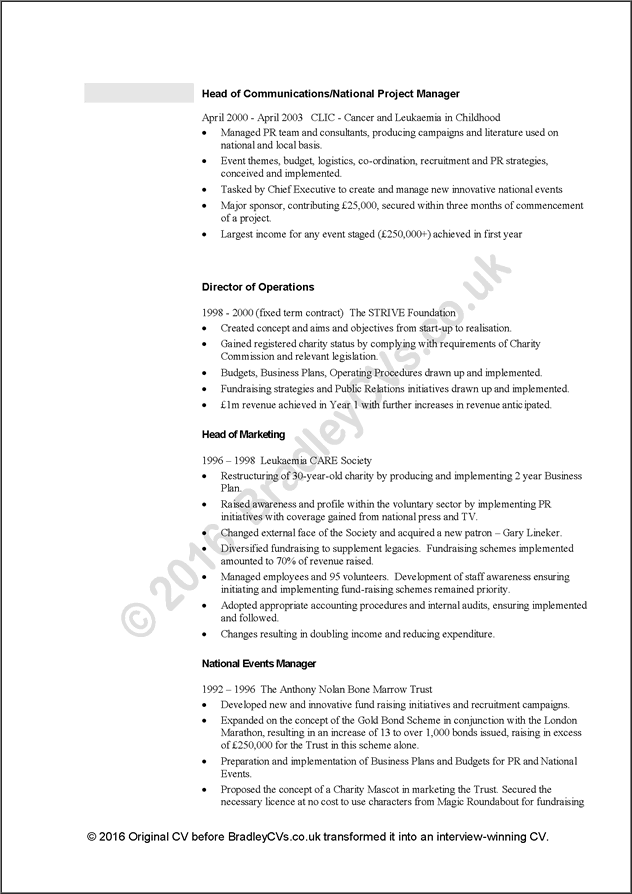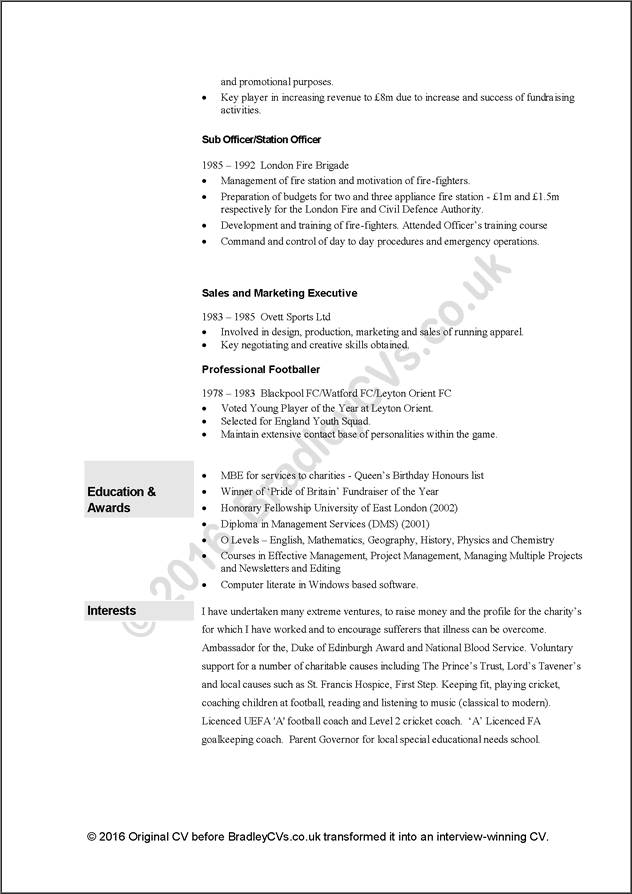 The New CV by Bradley CVs
The new CV created by our pro CV writers enabled David to win the job interviews that he craved.
Copyright watermarks protect the CVs on our site - these aren't included on the actual CVs we write for our clients.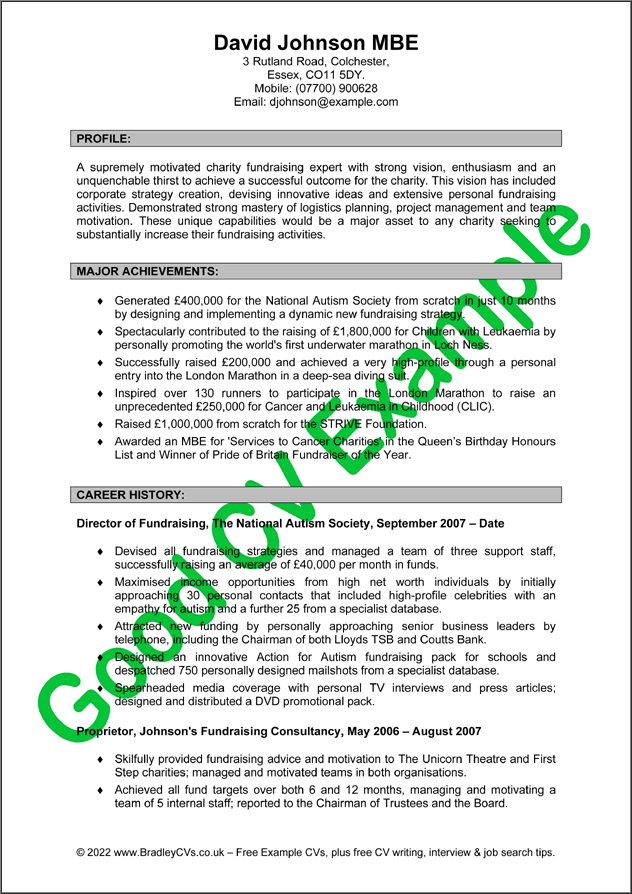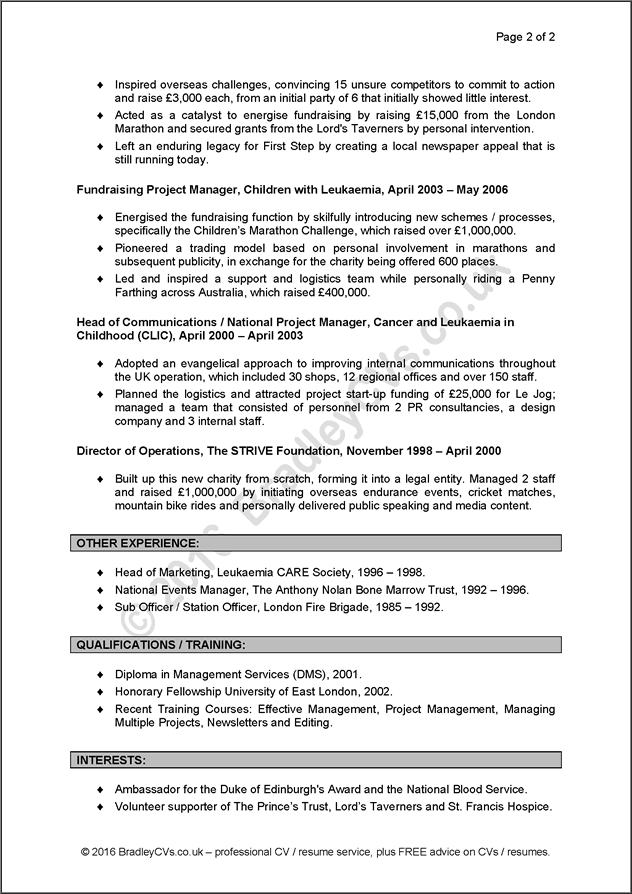 How to Improve Your CV / Resume
In addition to the free CV example, we've include some further CV writing advice and tips below to help you transform your own CV and win more job interviews - these are from our super FREE Report: How to Significantly improve your CV / Resume.
Your CV Layout
The layout of your CV is critical, you need to make it as easy as possible for an employer to find the information that they need as quickly as possible, otherwise they'll just reject your CV.
Employers are always short of time and will only spend about 30 seconds viewing your CV, so you need a straightforward layout that's easy on the eye - the harder you make it for employers, the fewer interviews you'll receive.
The original CV example above had a poorly organised layout, with too much white space and off-putting grey blocks.
Our new free CV example has a vastly improved layout, which makes it very easy to find the information that employers want to see - so try to make your own CV layout more like this.
Your Profile
When you're writing your profile you need to spend a lot of time figuring out exactly what an employer needs to know about you and what you can specifically offer an employer.
You should ensure that you only focus on your strengths and talents that are 100% relevant for the jobs that you will apply for - filling your profile with irrelevant information won't help you win interviews.
Try and keep it factual, don't go over the top, but also don't undersell yourself, getting the balance right will take time and much thought.
Your profile is like a warm-up act for a concert, it makes the employer receptive to you and your CV - it also should summarise the rest of your CV and tell an employer what to expect.
Achievements
When you look at the original CV, you'll see that there is no Major Achievements section, which means that David has missed a golden opportunity to get an employer's attention.
Listing achievements in your CV tells an employer immediately how well you can do your job; they are what makes a good CV stand out compared to all the other CVs that an employer receives when they advertise a job vacancy.
Your achievements are therefore the life blood of your CV, if you don't have any achievements in your CV, then your CV is completely dead in the water - achievements are absolutely essential to producing a successful CV.
You should have a Major Achievements section straight after your profile, grouping together your very best achievements, so they command attention from an employer.
You may not think that you have any achievements, but this is unlikely to be the case - most people have lots of achievements, it may just be hard for you to analyse your own achievements.
Should you need some assistance in identifying your achievements, a CV writing service like Bradley CVs can assist you uncover your major achievements, so that you're CV will successfully win you the interviews you'd like.
Selling Yourself
How you describe yourself and the words you use are critical, if your CV doesn't sell you to an employer, then you simply won't get the interviews that you want.
Your CV is your sales brochure to an employer, so it must sell you directly to an employer and make the employer want to interview you, rather than the other candidates who have also applied.
It's likely that your CV will have to beat 50, 100 or more other CVs when you're applying for a job, so you need to use convincing and persuasive words that will make an employer see you as the ideal candidate.
Should you require assistance in selling yourself on your CV, then you might want to think about professional CV writers like Bradley CVs with their wealth of experience and expertise in producing CVs that win interviews for their clients.
David's new CV landed him the job interviews he wanted and he successfully obtained a job with a leading national charity.
CV Service / Other Free CV Examples:
Further CV Service Pages:
Additional Services: