Example CVs / Resumes, a Before and After Case Study
The example CVs / resumes show how you can dramatically improve a poor CV, there's the original CV and new interview-grabbing CV below, and further down tips on how you can substantially improve your own CV.
Once you've looked at the below CVs, you might also want to view our first-class Sample CVs or our Graduate CV Example (for students / graduates), which show you how to write a CV that'll win you more interviews.
Would you like to improve your CV? A professional CV writing service can significantly improve your chances of getting the interviews you want.
The Original Example CV
The original CV is below and lower down you'll find the excellent new CV example, which showcases the outstanding talents of our team of professional CV writers.
Names, addresses and other personal details in our example CVs have been altered to safeguard the privacy of our client.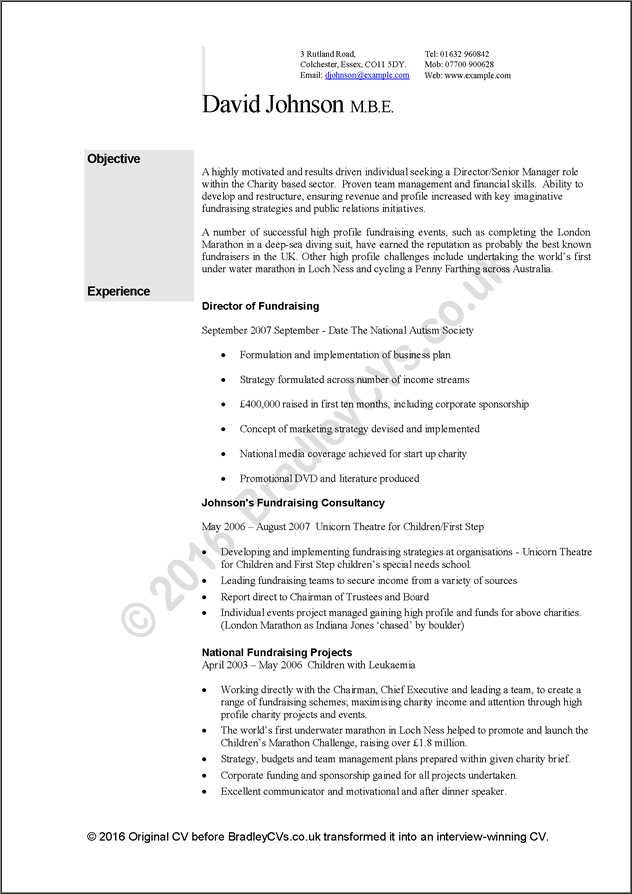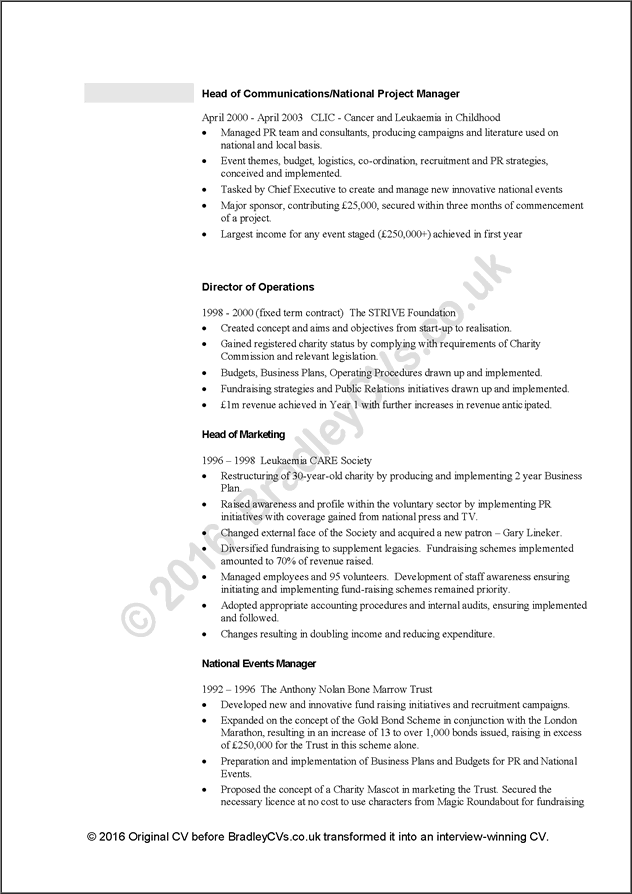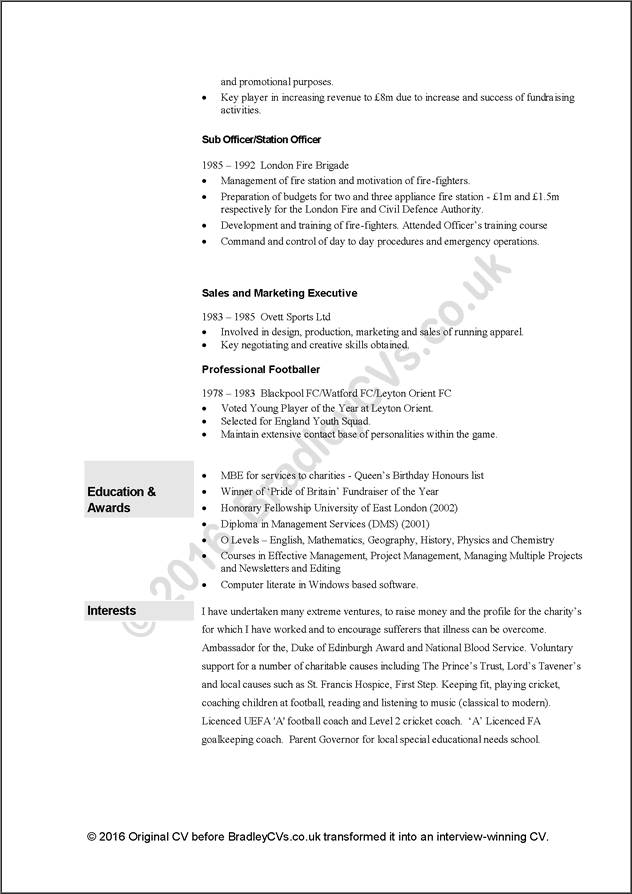 The New Example CV by Bradley CVs
Below you will find the new version of David's CV created by one of our professional CV writers.
If you would like to view or print out this example CV without the borders at the top and side or you would like to see a version with slightly larger text then please click here.
The copyright statement on this CV would not appear on your CV if you chose to use our professional CV writing service, it's stated on the CV to show that we are the copyright holders.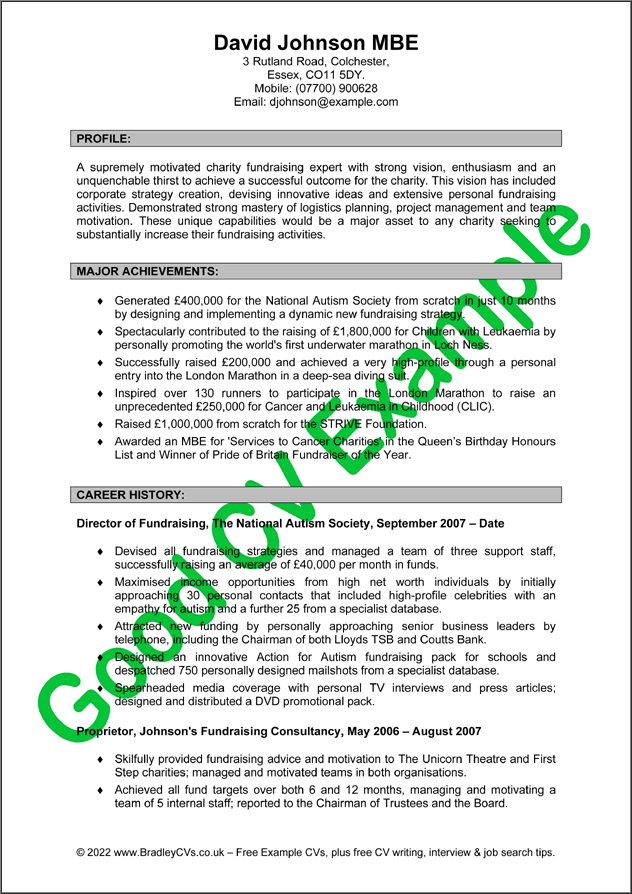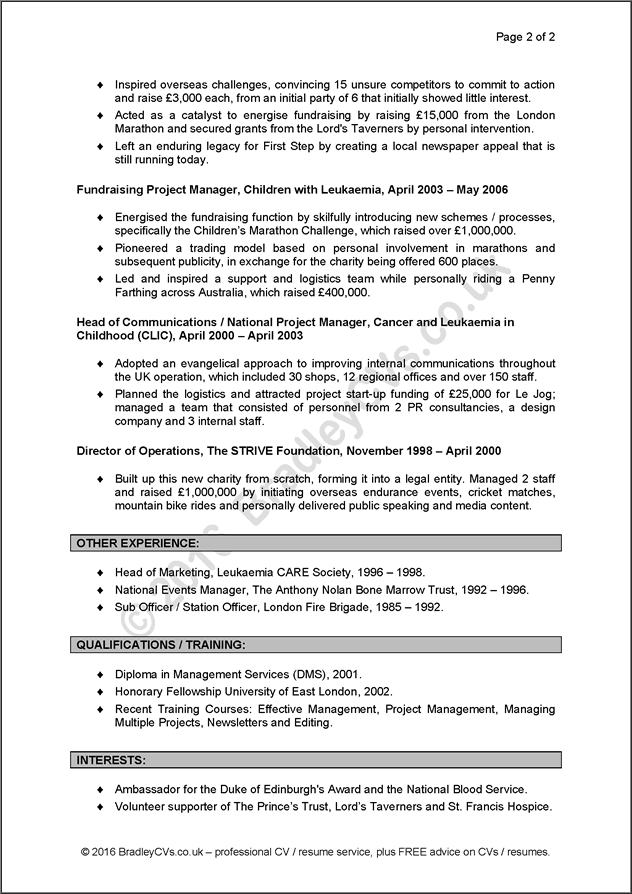 How to Improve Your Own CV
The Example CVs on BradleyCVs.co.uk should assist you with improving your own CV and we've also included some additional CV writing tips below, which are taken directly from our FREE Report: How to Considerably Improve Your Own CV.
CV Layout
How you set out and layout your CV is very important, because the harder you make it for employers to find the information they are looking for, the lower your chances of getting interviews.
You've only got a very short time to attract an employer's attention, typically 30 to 60 seconds, so if the employer can't immediately find what they are looking for, they are likely to reject your CV straightaway.
In the original example CV above, the layout was very messy and a bit disorganised, plus the grey blocks were a bit distracting.
You need to aim for a CV layout such as in the new example CV, which is far clearer with section headings that really stand out, making it much easier for employers to find the relevant information and therefore increasing your chances of getting interviews.
Profile
In the original example CV, the first section is labelled as 'Objective', which when you actually read the CV only relates to the first sentence - this section should be relabelled as a Profile or Summary.
Your own profile section must make a good impression, as it is likely to be the first section that an employer reads - so spend a lot of time getting it right.
Introduce yourself and your skills, experience and results, and clearly demonstrate to employers that you are a good fit for the jobs you are applying for.
Keep your profile as believable as possible - if your profile sounds so much better than the rest of your CV, employers are likely to dismiss your CV.
Major Achievements
There wasn't a major achievements section in the original example CV, which meant that a big opportunity to impress employers was being missed - it's essential that you include a major achievements section on your CV after the profile.
Your achievements inform an employer how you can carry out the job better than other candidates and therefore tell employers why you are the most suitable candidate to be interviewed - include as many achievements throughout your CV as possible.
If you find it difficult to identify your achievements, you are not alone - most people fail to clearly identify their achievements, even though they're so critical. If you need help a professional CV service such as Bradley CVs can help you identify your achievements that will make your CV stand out.
A major achievements section was added to the new CV and we picked out the best and most appropriate achievements that we had identified when we consulted with David on the phone.
Sell Yourself to an Employer
As we said before you've only got about 30 to 60 seconds to hook an employer, so make sure that your whole CV sells what you have to offer an employer in terms of your skills, abilities, experience and results (achievements).
If you are applying for a popular job, then you may be competing against 100, 200 or more other candidates, so make your CV as persuasive as possible and better than all the other CVs if you are serious about securing a job interview.
If you're struggling to sell yourself on your CV to an employer, then consider a professional CV writing service such as Bradley CVs, who have considerable experience and know exactly what employers expect to see.
David successfully won interviews with his new CV from Bradley CVs and secured a new job with a national charity.
Our CV Service / Examples CVs:
Other CV Service Pages:
Other Related Services: