Sample CVs UK and International (Before and After Case Study)
Our sample CVs show you how to quickly transform a lacklustre CV into a great interview-winning CV - see the before and after CVs below, plus you'll discover how to significantly improve your CV and get more interviews.
After viewing the CVs below, you may want to take a look at either our Example CVs or there's also a Graduate CV Example - both samples demonstrate how to produce CVs that land interviews.
Do you want to improve your CV? A professional CV service can maximise your chances and ensure you obtain the attention you deserve from employers and that they offer you more interviews.
Original Sample CV
Below you will find the original sample CV and further down the page the new CV - note the copyright statement only appears on CVs on our website, it doesn't appear if you get your professional CV written by Bradley CVs.
All personal details on the sample CVs have been changed to protect the client's identity.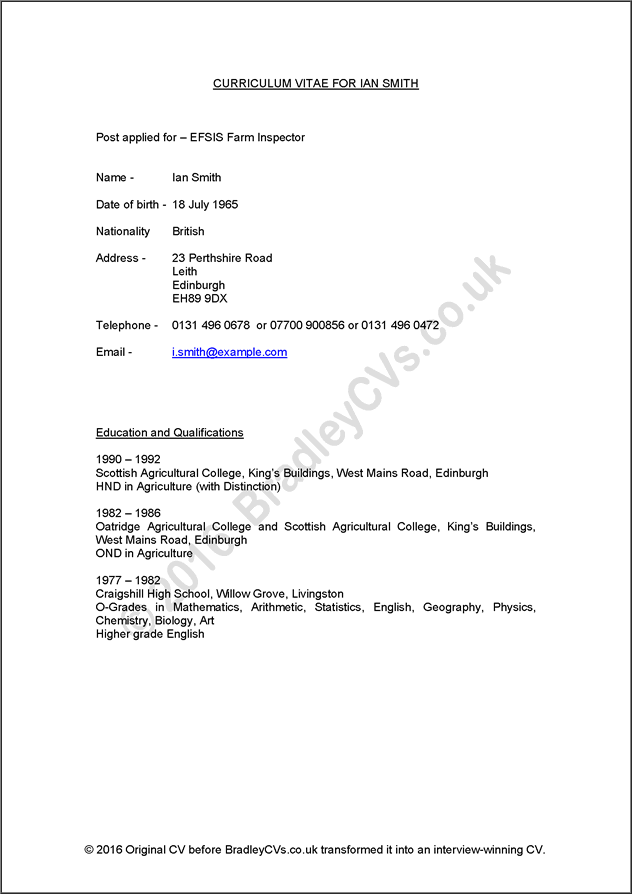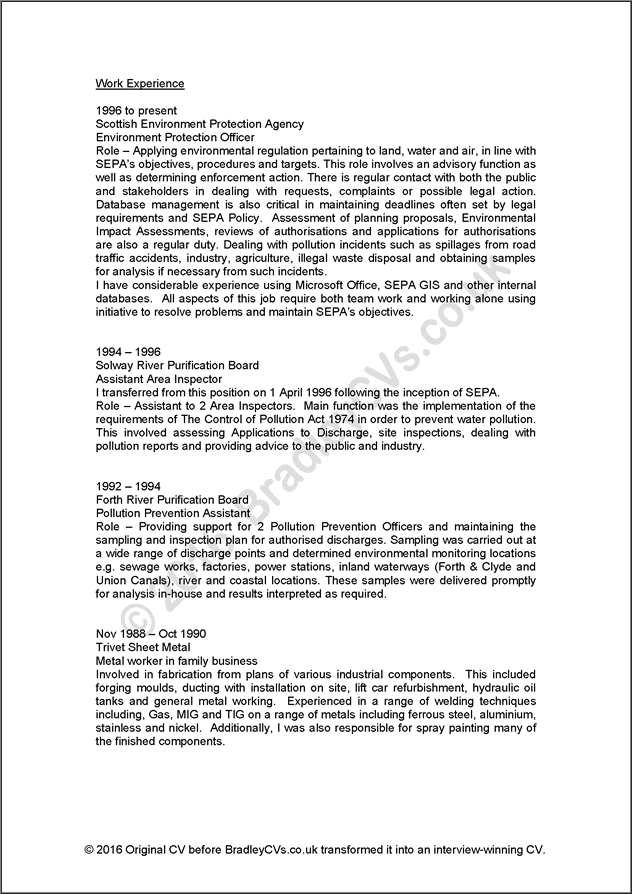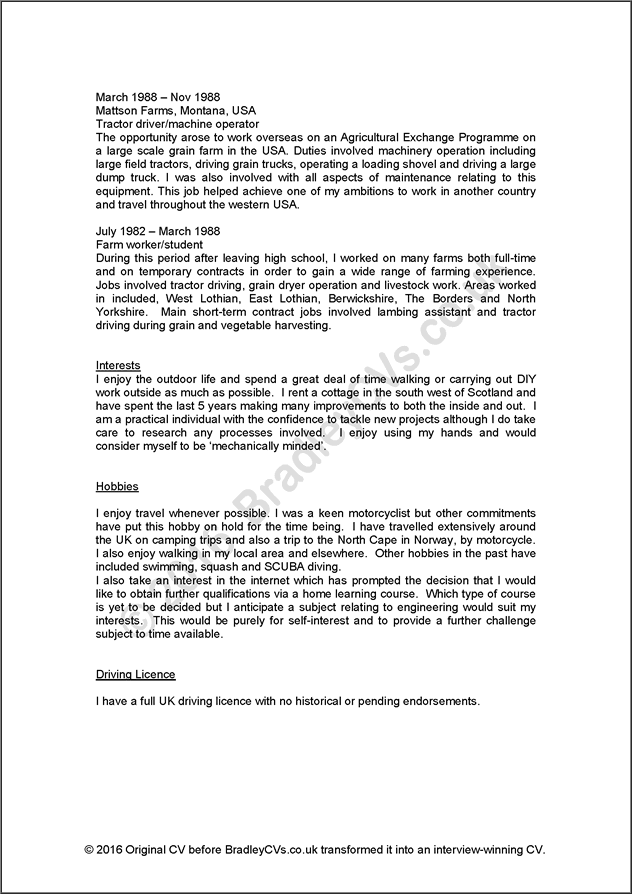 Critique of Ian's CV by Bradley CVs
Note the new CV is beneath this critique - feel free to view it first and then come back to the critique for tips on improving your own CV.
Free CV Review - Get a comprehensive critique of your own CV, identifying the mistakes you've made and how to considerably improve your CV, so you secure more job interviews.
The critique below will assist you to find some of the critical mistakes in your own CV.
Brief:
Ian needed a new CV that would quickly win him interviews, as he was about to get married and would then be relocating to a different part of Scotland.
His existing CV wasn't getting him the interviews that he urgently needed, as his original CV didn't reflect everything that he had to offer an employer.
He therefore need a powerful CV that would swiftly win him the interviews that he badly needed.
General Mistakes:
The original sample CV completely fails to grab your imagination and frankly sells Ian very short indeed.
Job vacancies matching Ian's experience and required salary level will attract a lot of competition, probably 100s of applicants, so Ian needs the best possible CV that makes him stand out from the crowd.
If you too are applying for jobs where you may face a lot of other applicants, you'll need a really good CV that sells you and your skills, experience and achievements far better than the other candidates if you want to get interviews.
After speaking to Ian, it turns out that he has lots of excellent experience that could be used in a number of different sectors - this doesn't come across at all in his existing CV.
You too need to make the most of your own experience, otherwise you'll miss out on job opportunities solely because your CV doesn't sell you well enough.
There were a number of errors, omissions and extraneous details in Ian's CV.
You need to make sure that there are no careless errors, omissions or extraneous details in your CV, as they demonstrate poor attention to detail, which will put an employer off and mean you to miss out on interviews.
Profile / Summary:
There is no profile / summary on Ian's CV, this is Ian's opportunity to sum up his experience, skills and abilities and tell an employer why they should employ him rather than someone else.
Like most people Ian said he found it really difficult to identify what skills and abilities he should put in his CV, which is where Bradley CVs were able to help him by analysing and evaluating what needed to go in his profile.
When you're writing your own profile, identify what is unique about you in terms of your skills, experience and achievements and sum them up in a few sentences.
Make sure that you are truthful and that everything you say in your profile is backed up by the rest of your CV.
FREE Report: How to dramatically improve your CV
Major Achievements:
There is no major achievements section on Ian's CV - so again, Ian's missing an opportunity to shine and tell an employer what he has achieved in his career.
When you write about your achievements, you must focus on achievements that have made a real difference to the employers you have worked for, which will make your next prospective employer sit up and take notice of your CV.
Education:
Education and Qualifications have been placed before Work Experience on Ian's CV.
In Ian's particular case Education and Qualifications should go after his Work Experience. Please note that this decision will depend on your own particular circumstances - so please get professional advice if you're unsure.
Work Experience:
There are long blocks of text, which make it difficult to read Ian's CV quickly. These blocks of text need to be broken up by adding in more blank lines and bullet pointing the sentences within each job to make it easier to read Ian's CV.
The work experience needs to be rewritten in a much more punchy style that makes you really want to meet Ian and invite him to that vital job interview.
New Sample CV by Bradley CVs
This sample CV allowed Ian to quickly relocate after getting married (his original goal), as the new CV successfully secured the interviews that had eluded his previous CV and he then converted these to a job offer.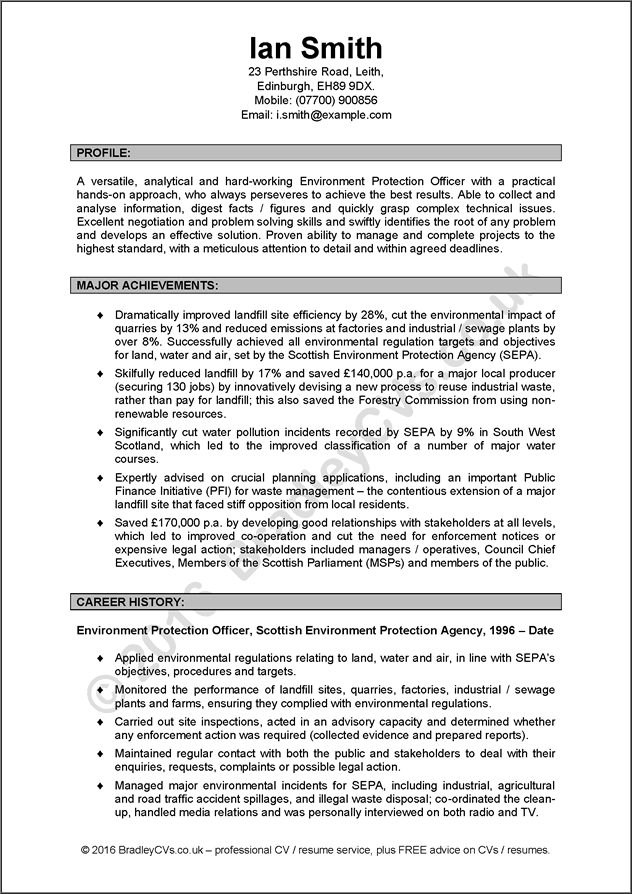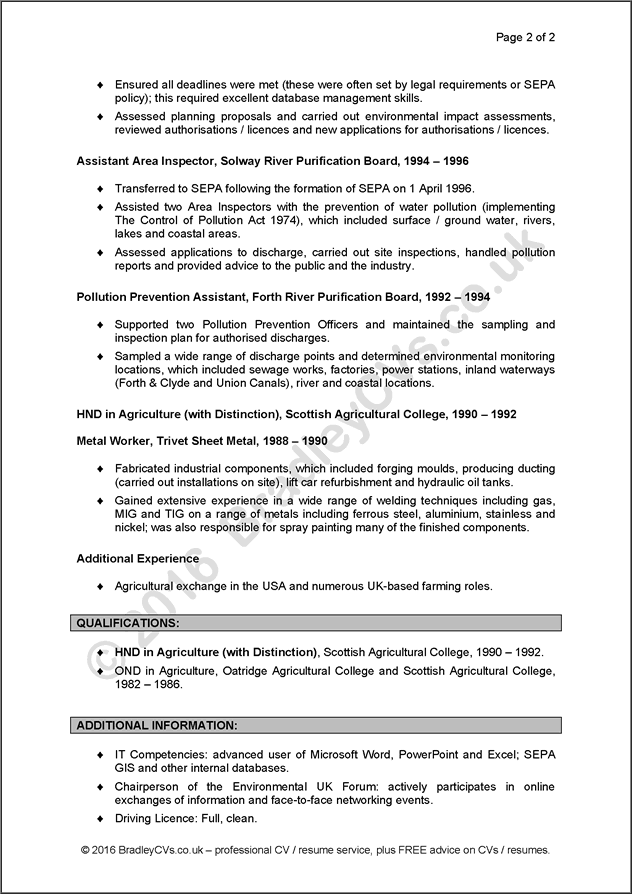 Professional CV Writing / CV Samples
Other CV Writing Service Pages:
Additional Services Offered by Bradley CVs: